Pin It Now!
Ever since we were toddlers, we have been flying from one province to the other since our parents are from different provinces. We have spent our early childhood years in Manila while my mother is from Negros Oriental and my Dad is from Davao City. Once or twice a year, our family would split up (my sister and I would take turns who goes with whom) for vacations. As a result, flying on an airplane has been like riding a car for both of us.
Before, there was only PAL
When I were still a kid- I always wanted attention. There was a particular time when we rode an airplane and I started yanking my seatmate's curly hair that the Flight Attendant noticed me. I can't remember that much but I do remember that she took me to see the captain inside the cockpit and I ended up calling him "gay".
I always have a fascination with aviation and there's something about airports that make me feel happy. I know I sound crazy but I don't have any plans to end up like Tom Hanks in the Terminal. It's true what Hugh Grant says in the beginning of
Love Actually
about airports-there is really something special about it. Moreover, the travel bug has bitten us. Who wouldn't want to travel for free right?
It was a dream of mine to be a Flight Attendant. Unfortunately for me, I didn't grow an inch taller, I could have been 5'2 1/2 and be able to apply. I knew I'm not qualified so I squashed that dream.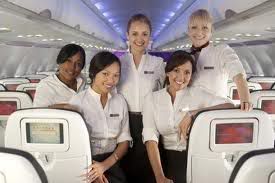 Fly Girls
It was only recently when that dream was revived when I saw Gwyneth Paltrow's movie View From the Top and of course when Fly Girls started airing locally and discovering
Beauty QQ
on youtube. My fascination was revived. Since I can't make it, I inspired my sister to try it. My sister on the other hand is 5'4 and a good swimmer plus she had her OJT at the airport that we thought gives her a bigger chance of being accepted. She had tried her luck by applying in two of the biggest carrier in Philippines, so far she wasn't successful.
So with her permission, I'm gonna share her experiences.
With Cebu Pacific, we were kind skeptical she'd make it because we know that Cebu Pacific generally prefers fair skinned girls and my sister is of Morena complexion.Our preparation wasn't really that rigid. I have been to Cebu Pacific open call once but I didn't apply for an FA Position but for Ground Crew Position. At that time, one of the HR Team Leader was a cousin of my mom's friend and asked me if I wanted to try out for an FA position. After hearing some of them instruct some people to come back the next day with swimming stuff, I passed. I don't know how to swim and besides I was already had the inkling I won't pass the height requirement so I said, "no" (I regretted it, I should have tried right?). So then off to the open call she went. She only passed the height and weight test and failed the smile test. To think that among our family, she has the best set of teeth-naturally ( I had to wear braces for 3 years because I lacked 4 teeth). Even our orthodontist was kinda shocked how it could have been the reason for her disqualification. Nonetheless, it was their decision to make, so we might as well accept it.
smile-check!
When we read that PAL was in urgent need of FAs, I went with my sister to pass her resume. The one who took her resume and measured her height. After that, she told her to come back, noticing me, he asked if I was going to apply- I quickly said no, I don't want to be humiliated with my height because I know that they are strict in height.
Awhile ago, she went to PAL's open call. This is actually a funny story because we have searched for tips from the net (luckily there were a lot in PEX) on what to expect. We have read that the first part would be an Impact Interview. I advised her to show her Japanese and Korean speaking skills and use it as an advantage. We googled PAL's history and came up with a good answer to the question, "Why PAL?". She waxed her arms,legs and even had her nails cleaned. In fact, he legs were so smooth that my mother commented that her stockings is not obvious-she thought she was wearing stockings.
So there she was among 30 people. They lined up and was given a chance to speak for 2 minutes. She started off greeting in Japanese and then she had mental block. The funny part was that , the person next to her probably felt the pressure and spoke in Spanish-LOL! They also asked each one to take a walk, they their blazers off, show their best smile and their hands.
At the end of that activity, you get a tiny piece of paper whether you pass or fail. Unfortunately, for the second time, she failed. Out of 30 hopefuls-only 2 got in.
Will never have the chance to say, "Paris, First Class, International!"
So for now, our FA dream will remain a dream.