Pin It Now!
It's not sudden that I am currently starting to have an interest in photography. I have always been fascinated about it but as most of us know-photography is an expensive hobby. In my school years-cameras were really expensive and my dad owns a Minolta that he bought from Japan but wasn't able to use it here in the Philippines because at that time batteries for that were not available. So we have to make do with an old canon.
The first time I was to have a camera was 3 years ago, a Samsung one. It was fun to have it until it was knocked off by my mom's Sony Cybershot. Then I bought my Panasonic Lumix when the need arose-when we went to Hong Kong.
Lovin' my Animob Pouch-I was looking for a pink one but can't find any so I settled for the gold
Now, I have been wanting to buy Lumix LX3 and LX5. I have been saving for an LX3 when the LX5 came out and how expensive it was. I then googled some reviews between these two. LX5 is an improvement of it's predecessor LX3 however, a lot of people have expressed that they were happier with their LX3. I was thinking that I should just buy LX3 since it's less expensive and the difference between LX5 is not that much but then I was thinking-why should I buy something that about to be phased out? So then I said maybe I should save for the LX5 and then I read in a review that Panasonic has opted to change their battery with the new model and it is hard to find battery for it and how expensive it was. As I was browsing reviews, I came upon Samsung EX1. It's Samsung's answer to LX3 but the feature that really got me was it amoled swivel screen-every camwhore's dream.
When I saw some test shots of this, I was sold. Even if LX5 wins in reviews- I felt that Samsung EX1 is the camera that best fits my need. So then for months, I waited for it to arrive into our small city. When it finally arrived- I bought it.
So far, I'm tweaking with it. Trying to get to know it better but so far- I must say I am very happy. I haven't regret buying it and I can't wait to do photography this coming summer.
***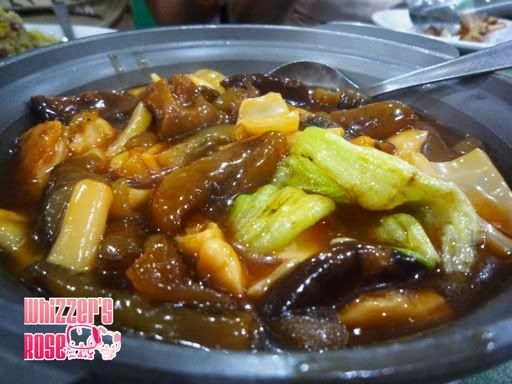 Hotpot- everything in one
Last night, we went out to eat at our favorite Chinese restaurant, Ahfat. Aside from the usual order, we tried out their seafood hot pot which was so yummy. After dinner, my sister introduced me to Korean Ice Cream. I haven't really eaten ice cream in a long time so I went with her to this Korean grocery located a shop away from Ahfat. We bought this Jewel Bar and I chose Cookies and Cream but when we came back to the restaurant, my mother took the Cookies and Cream for herself.
Yummy but not as sinful as Selecta's Cornetto
I enjoyed mine but I took a bite of her Cookies and Cream and damn-it was better.
my parents enjoying their Korean Ice Cream
***
Actually today is Araw Ng Davao and our parents' wedding anniversary but we don't feel like going out. I'm feeling kinda low especially after the Japan Quake and Tsunami-such a devastating catastrophe.