Pin It Now!
No, Chema's is not a food which it sounds like. It is a resort located in Samal Island.
Friday night when I came home early from a seminar, my phone rang and my mom was asking me if I would be working the following day. Some mix up must have happened at our head office that they sent out memos that we would still be working despite the fact that Saturday is a holiday only to be recalled later on. She tells me that my father wanted to go to the beach. I asked her then where, she said that we'd go to Paradise Island, another beach located in the island of Samal but I opted to go to another place- Chemas.
I said okay, but I knew right then that I won't go swimming.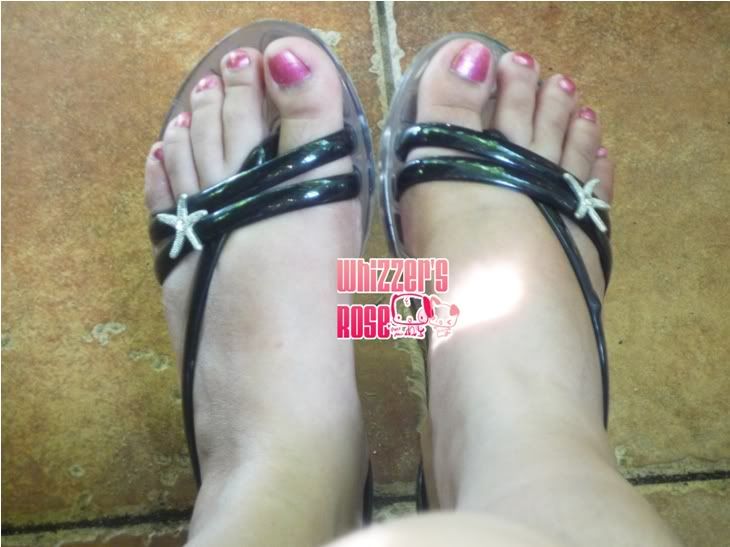 Ipanema had a sale last month, so I bought this pair at 20% off it's original price thinking
that it would become handy this summer. These are not comfortable at all especially when they get wet.
It sticks to much to the skin- it cuts through the space between my big toe and index.
During our younger days, we'd frequent the beach almost every week. It probably a main reason why some old friends from gradeschool would tell me that I looked much fairer than before. We've always headed out to Paradise Island for to swim. Back then Paradise Island was a bit more expensive than the usual beach resort in the city that was why it was never crowded.
Years have passed and they have expanded. Now, they have a zoo and a couple of more beach strip to accomodate a huge crowd. They have never really raised that much of their entrance fee, thus it is now also accessible to the masses.
Being me, I never really liked crowded areas especially beaches. I never really felt that comfortable going to the beach and seeing acquaintances in swim wear which consists of a bathing suit underneath shorts and light shirt- I don't think I can handle wearing only a bathing suit which is funny because you'd only see that here in the Philippines where a lot of people enjoy talking more or making fun of others than swimming. Aside from that, though the resort has expanded, there changing and shower rooms are still so outdated. It's just a corridor of stalls without doors nor curtains and there's only 5 comfort rooms and on holidays it can get very overcrowded so it is a major hassle to get pee and shower.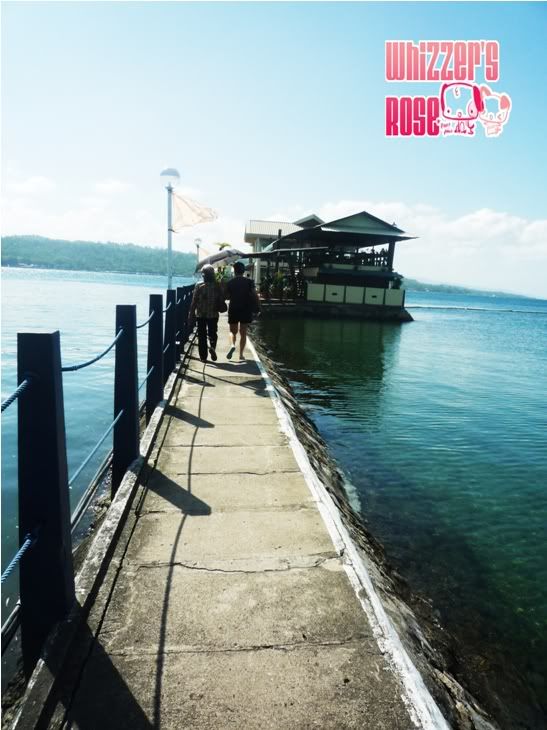 I quickly suggested that we'd try going to Chema's since I haven't been there yet. It is a new resort near Paradise Island but it tad more pricey. I searched the net for numbers and they only have one Globe number that I was able to access. Gah! For a group of 5, you have to spend PHP400 for a back and forth boat ride, PHP125 per person entrance fee and another PHP200 for the "umbrella" or a small shade where you put your stuff while you go swim. Resigned, I just planned to sit out and eat the delicious food at Paradise Island (one of the plus points they have).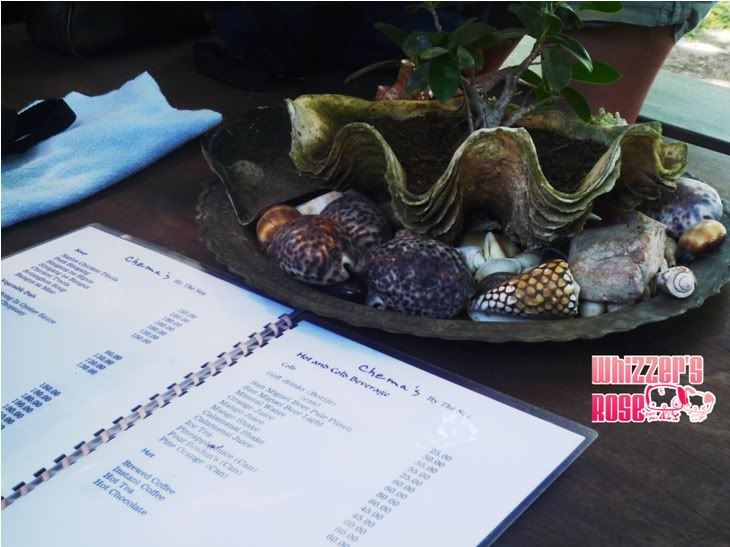 Menu @ Chema's consists of mainly Filipino food
The next day, my Dad seemed open to try Chema's despite the pricey cost. So I just packed my swimwear in case. We went to Insular Waterfront Hotel which is where we wait for a boat to take us to Chema's. I have lived in this place for a long time but it was my first time to actually enter the compound. I was really amazed at the sprawling Resort Hotel, I knew that it was beautiful from pictures but never thought it was better in real life. I always dreamed of having my wedding held there someday and if ever. My mom even joked about it when we saw a bridal party before we left.
I did call the night before but never made any reservations. It is not a recommendation to just walk in like we did, it was lucky enough that there was still an "umbrella" for us to stay in when we arrived but then we have to wait for a while. When we arrived we first ordered our meals and instructed it to be served at 11:30 am which was approximately 3 hours later. Since we didn't come with a reservation, it was lucky that some guests left and so vacating an "umbrella".




under our umbrella-ella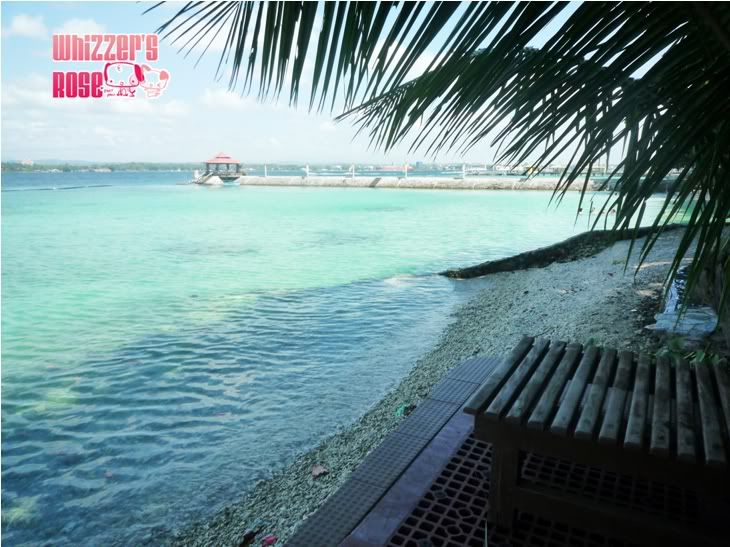 It must be a blessing in disguise because this "umbrella" have the best location. It faces the sea while the pool is at the right side of it. Furthermore, it's a the leftmost part of the resort, thus, it gives you more privacy.
This is the interior of a shower/changing room. I love how my Melon Colored bag accented
the purple walls. I actually thought of selling the bag because I didn't think I would be using it but then I didn't have other bags have the right size-thankfully, I haven't sold it yet.
Though I still had my resolve not to swim, I felt the urge to jump into the blue pool which is under a shade of trees, thus you don't have to worry about burning your skin in the sunlight. My sister and I went to change, I love the Mexican Style comfort rooms. Each changing room is equipped with shower and a bench and best of all it is very clean. I am very impressed already.
I was running out of my SPF spray from Aromacology- I wanted to try something new. Yes, I wear SPF everyday. I saw this at Watsons last week thinking that it was the spray type, I thought it was cheaper than the Nivea one since it's already SPF130. Lucky me, I bought this one to the beach and discovered its a lotion after all and water proof unlike the sports spray that I usually use from Aromacology. That spray is kinda like an oil but not too greasy, however, when I jumped into the pool-you could actually see the oil drifting from my skin. Eew!
Nevertheless, Sunplay left me with no tan marks at all-Lol! This one is very effective and even saw a commercial while watching ETC.
So when we were ready to go swimming with sunblock on, my dad was already in the water. He was waving his arms and yelling at us to join him in the beach. I avoided going through the sharp corals. I was a bit apprehensive about it because my feet were hurting a bit, my Ipanema Jellies are starting to get on my nerves. I passed thru the man-made stairs and when my feet hit the waters, I was also very happy to find out that the sand was so soft and it barely has any corals that was very common in Paradise Island that it was also common for me to get tiny cuts after swimming there. I have to discipline myself not to stay too long in the sea water since I don't want to tan. It was so refreshing to swim in the beach without worrying about getting some cuts from sharp corals.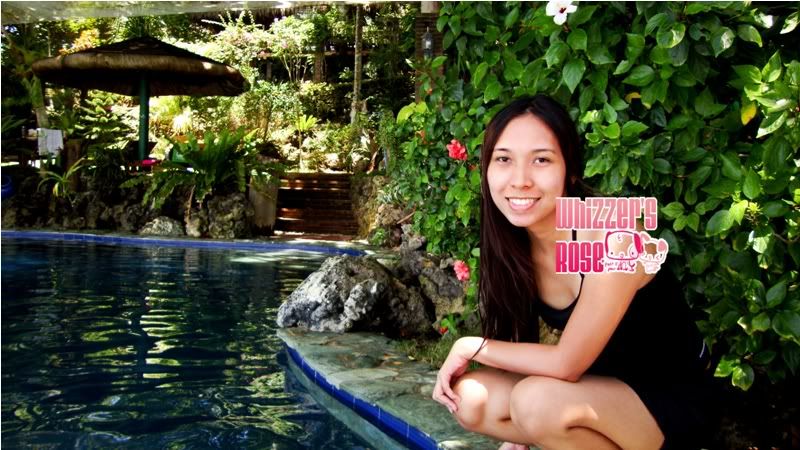 My sister at the pool
Later on, I spent most of the time swimming at the shaded pool. The pool is also of sea water and it's just the right depth for me, This infinity pool is just so good to swim in.
Food was just okay unlike Paradise's, the soup was salty. You have to eat your food at the restaurant and not in the "umbrella" which I thought was fair enough but you can eat pica-picas there.
Overall, we really liked the place and it's nice ambiance. It is not too crowded and everything is clean. My dad even wants to come back every weekend and we were rolling our eyes and teasing him because he wouldn't want to spend PHP3000 every week-right?
It was already low tide when we left,see how lovely the sand is