Pin It Now!
For the longest time, it has been a guilty pleasure of mine to look at "what's in my bag?" videos on youtube. I don't know why but I do get some tips and ideas from watching. For example, I use to carry all my stuff in one bag without using pouches, I just stuff them into my bag but then now, I use lots of pouches to organize my bag that I rarely forget stuff to bring or when I change my bag, it's easier for me to transfer stuff I need.
I am currently on vacation right now, so I'm gonna post what's in my travel bag. I am going to Negros Oriental for 10 days so this is what my travel/ carry-on bag looks like.
I
actually bought the bag the night before I left. I initially planned to bring my COBO bag that I brought from Hong Kong but then I was really scared that I would be overloading it on the process since I've got a lot of heavy stuff inside.
My bag is full to the brim, Its straps is short so I got the detachable strap from my Cobo bag so that I can carry it like a messenger bag if I get a bit tired.
1. My Animob Cellphone case, it carries my Samsung Star Wifi and my old Sony Ericsson W880i
2. Hello Kitty Make Up pouch that I got for PHP50 at some kid's store. Since make-up pouches easily get dirty, it is unwise to buy an expensive one. It is also advisable if it is see-through or transparent so that you'd easily get the stuff you need without fishing through all those make up.
3. Hope Cooke's Time Change that I haven't finished reading. I have saved it to read on this trip though NO is far from Sikkim, I kinda like reading it while on vacation.
4. Headband- right now, I'm into stuff likes headbands and clips that are inspired by Kim Tae Hee's role in the korean drama, My Princess.
5. My Hello Kitty Netbook Bag. I stuff my mouse (since I really hate using the touch pad) and battery charger inside it. I can easily take it whenever I have to go to the town plaza to get wifi access.
6. My silver Aldo Kabul wallet that I really love. My mom bought it a month ago. I initially wanted the black one but there's no stock in their Greenbelt Branch so she got the silver instead.
7. Melon Pashmina, I usually bring this on travel in case it gets cold in the airplane or I have to sleep in the airport.
8. Another Animob Pouch where I put my Samsung Ex1
9. Pouch from Waigo that holds my Lumix FX38
In the outside pockets of my bag, I have a pack of tissue and the lastest Reader's Digest Issue with Kate and Prince William on the front cover. I got it at the airport which is PHP25 more expensive than in a bookstore. I didn't know they were on the cover and like many, I have been hit by the Royal Wedding Fever that I bought this and gave the other one to my Dad for him to read since it's a double edition.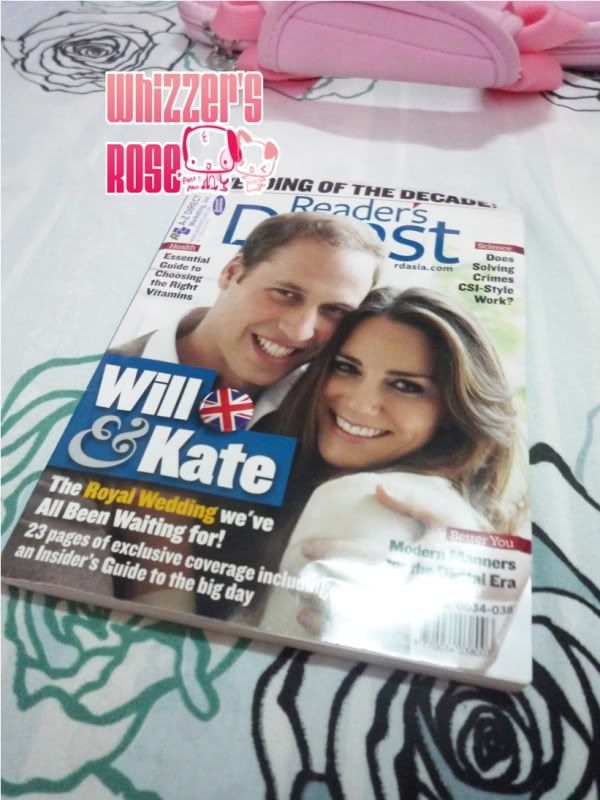 ,
It makes me a bit sad the Prince William is getting married and it's not because I don't think Kate is a good match nor am I pining over him. It's just that it reminds me how fast we have grown up, we kinda grown to daydreaming about him our youth slipping through our fingers.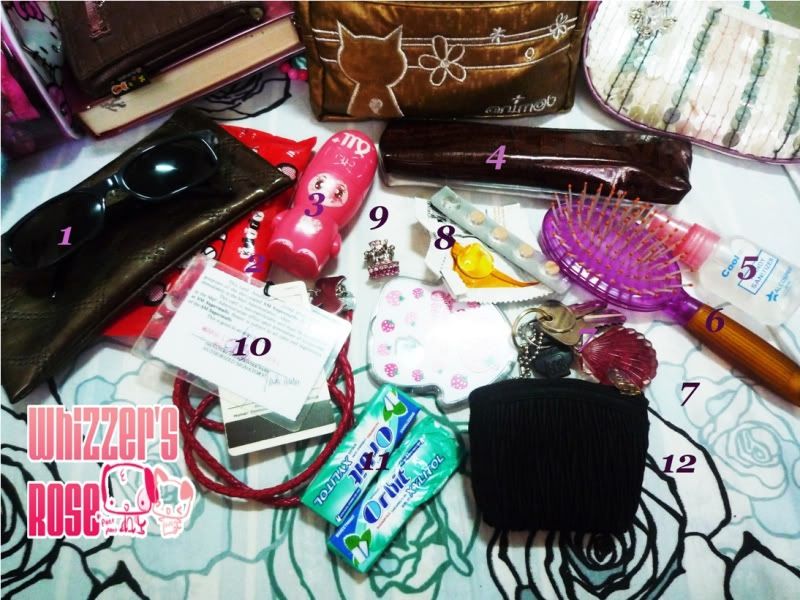 1. Shades-dark shades are the best when you want to snooze especially if you're seated near the windows
2 Wet wipes-you never know when you need them like when someone steps onto your toes while waiting to board the bus
3.Mini Electric Fan-must have this summer especially when there are power interruptions
4. Pen Case-just in case you have to write something like Immigration Cards
5. AlcoSpray-Hand Sanitizer since the gel ones makes my hands super sticky
6. Goody Brush
7. Keys
8. Bonamine and Strepsils
9. Hair Clip/Clam
10. IDs- you need your IDs for check-in and before you enter the airport. Never forget them.
11. Orbitz sugar free gums- to lessen the pain you might feel in your ears as pressure changes while riding an airplane.
12. Coin Purse-also where I keep PHP20 bills for emergency tips to porters
I ususally don't put much make-up during summer since it's so hot, chances are you'd sweat your make-up off. There are of course some exceptions like when you have to look presentable for an evening out with friends or reunion parties so I packed some make-up just in case.
1.Eyelash Curler
2. Floss
3. Sunblock For Face (nivea)
4. BB Cream Pure Derm- I didn't bring any creams but ended up having to buy one because my skin is super dry. I thought the moisture from the sunblock will suffice but it doesn't.
5.Sunplay (product I've been raving about) SPF 130
6. Bourjois 2in1 powder foundation
7. Blush
8. Liquid and Pencil Eyeliners (Skinfood and Kiss Me)
9. Mascara (fairy drops)
10. Kiss Me Mascara Remover
11. In2It Eye Color Pen
12. Lip Gloss (Revlon)
13. Tweezers
14 (supposed to be the Pencil Eyeliner)
15. In2it Lipstick in brick (darker shade than the usual)
I have a separate pouch for make-up that I usually bring out for retouch.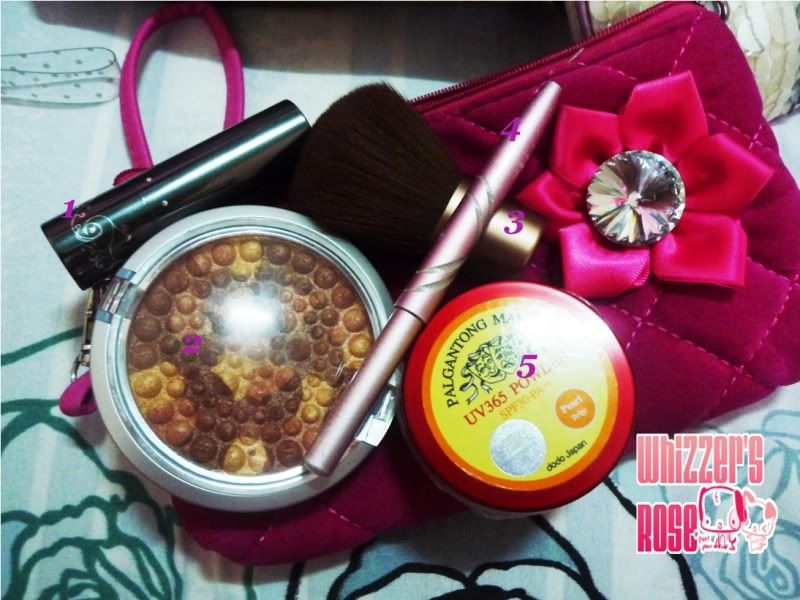 1. Lipstick (In2it moisture release, tawny)
2.Physician's Forumula Bronzer (Bronze Pearl)
3. Kabuki Brush (Nichido)
4.Lip Brush
5. Palgantong Powder (UV365 SPF30PA, pearl beige)
So these are the things I have in my summer bag. I am not paid by any of these product for advertisement, I just love their products. I do hope you'll have a nice summer too.