Pin It Now!
Happy Valentines Day 2011
Roughly three years ago, I cursed Metro Manila like a scorned lover. I don't want to go back after the failure I've been through. I was bitter for I thought I'd feel right at home in this place where I was actually born and where I spent the first 5 years of my life. Alas! I was wrong. I had a hard time adjusting to the rough life even with more than enough to keep me well fed and comfortable. For a rural pampered princess like me- 8 months living in Manila made me break and sent me running back home.
Manila is like a cross between Bangkok and Hong Kong. Hong Kong where everyone walks fast and there's a fair amount of walking mirrors Manila while Bangkok's sunny and colorful streets is almost identical to Manila. In some parts- I'd probably say the slums of Mumbai like what we've seen in Slumdog Millionaire.
Anyway, 2 days before Valentine's Day, my mom announced that she's gonna go to Manila alone and I volunteered to be her travel companion (she never traveled alone since her accident). It was the opportunity I've been waiting for. I'd love to taste Manila as a tourist and not as resident as I've been years ago.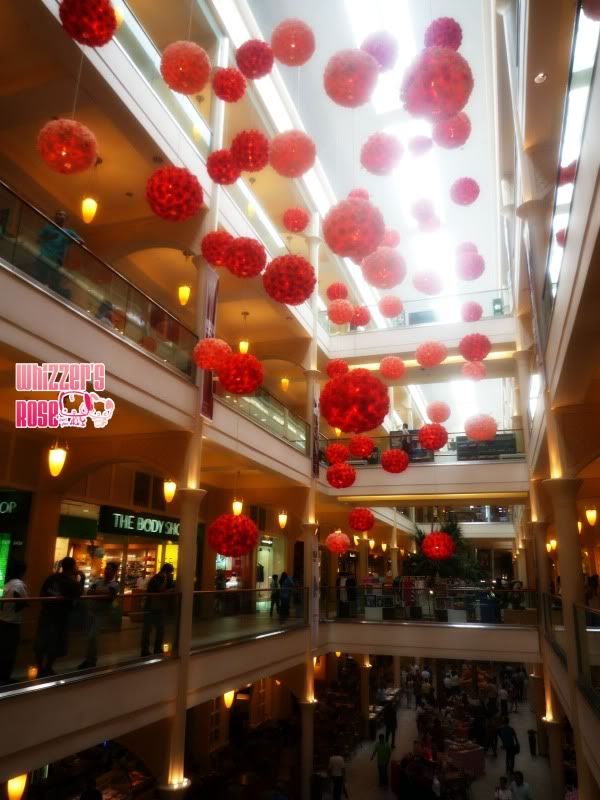 Red Lanterns hung from the ceiling @ Rockwell Powerplant Mall
Kinda reminded me of that scene from Tangled, it didn't help that I watched it again in 3D las night
The first mall we hit upon our arrival was Rockwell since it was so close to the small hotel we stayed at (Durban Hotel). Rockwell is one of those chi-chi Boutique Mall. I'm a real fan of Malls that aren't too crowded and relax ambiance. My mom and I shopped around and was able to buy nice shoes at Payless Shoes. After that we went to Glorietta and my mom bought yet again, another pair of shoes from an Italian Shoe Shop ( I forgot the name). I tried out a shoe and it was a perfect fit but chickened out when I saw the price which is almost much more expensive than my one-way airfare.
It was a coincidence that an officemate of mine was also in Manila at that time. We arranged to meet in the morning to go to Divisoria. Divisoria is like HK's lady's market and Bangkok's Platinum rolled into one. I used to go to this place when I lived in Manila and I'd always get an earful from my Mom who absolutely doesn't like me to go there. It's a place where you have to be very careful with your bag, a former officemate of mine lost her wallet and freshly withdrawn bills in that place. In shorts, comfy flats and body bags ( we didn't even plan our outfits, coincidence) we marched into the streets of Manila.
From Makati, it' took us almost an hour to finally enter the doors of 168. I amazed that there are one or two new malls standing next to it. We made a beeline to the 3rd floor where you can find quality good at affordable prices. It was good that we made it an hour before lunch time since the place can be very crowded in the afternoons when people from nearby provinces would arrive and stock their shops.
My friends and I headed for this store "Juana" on the 3rd floor and they bought pretty blouses and dresses at the price range of PHP200-PHP300. I also went to this shop near the elevator where I was able to buy a skirt and dress which is PHP300.00 lower than it's price here. The good thing is was able to haggle too even if I only bought 2 pieces so unlike in Platinum Mall in Bangkok where you can't haggle unless you buy 3 pieces. When we filled our shopping bags or more like plastic bags (I will do a haul post later) we headed back to Makati where we were all staying.
The next day since my mom is still having her meeting the entire day, my officemates were on their way back home and my friend is having her job interview, I decided to treat myself to a day at the salon.
Saw this page from a clearbook in Beauty Brick, This is exactly what I wanted
You see, it's been a year since I had my semi rebond at a local salon where my stylist since I was in 3rd grade works for. I was planning to have my hair rebonded soon but I want to try a new salon. I googled for a good salon at an affordable price near my hotel. I wanted to get a volume rebond,. Unlike the usual rebond, A volume rebond won't give you a flat hair. It turns out that most of the salons offering volume rebond are actually Korean-manned salons. I searched for salons with good reviews. I first went to Beauty Brick where a lot of girls have been raving about their digital perm and how the stylist, Mr. Shin was educated at Tony & Guy in Japan.
Dona Consolacion Bldg where Beauty Brick is located, Jupiter Street Makati
I was very surprised at how honest Mr. Shin was with me. He told me I don't need to rebond my hair because I have naturally straight hair (unlike most salons would tell you that you have to rebond in-marketing bluff even if you don't neet it) but that the bottom part is actually damaged. He won't be able to perform a volume rebond unless he cut out the damaged part. I know my hair has been damaged and I didn't want to admit it. A year ago, December 2009 to be exact. I went to David's Salon and asked if I could have treatment and what kind of treatment would hydrate my dry hair. I had my hair done their and I don't even remember the treatment, the stylist particularly told me not to color my hair for three months. Since I was a hard headed girl, I had it colored in January in a different salona and when Gerson (my stylist) saw my hair, he flipped because he thought it was relaxed. They advised me to stick to one salon in terms of treatment because sometimes, different salons use different medicines and these could give a bad reaction. I had it semi rebonded but it was evident that it was damaged as evidenced by it's roughness.
Before making a decision, I also went to Hair Click at Polaris street which is also a walking distance from our hotel. I've seen a good review of this Salon too, but when I got there. They told me that since my hair was damaged, it might not turn out the way I want it to turn out and that they also have to cut my hair.
Kept myself occupied by reading magazines and taking pics
After lunch with some old officemates, I finally decided to have my hair done at Beauty Brick. Ambience wise- I think Hair Click is better but then the staff at Beauty Brick were perkier and Mr. Shin really tells you what he thinks and gives advices unlike the Korean Salon I go to in here ( though the stylist doesn't talk, she is very good in getting the right haircut you want and their hair color is really good).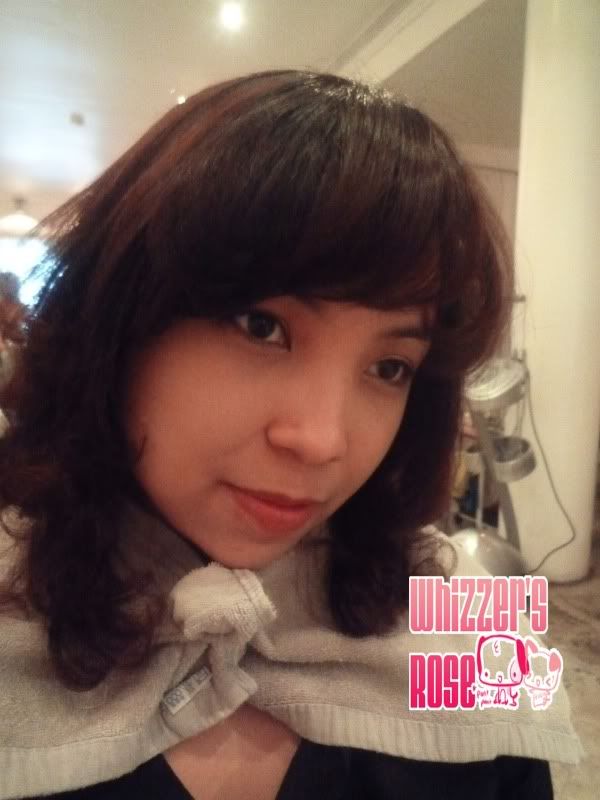 No, this is not the final result. I looked like a child angel
I was horrified when Mr. Shin told me that after the rebond he had to cut more of my hair since the rebonding process damaged my damaged tips. He sheared off a good 5 inches of my hair that I've grown for a year. I soon came to realize that was how my hair had grown since.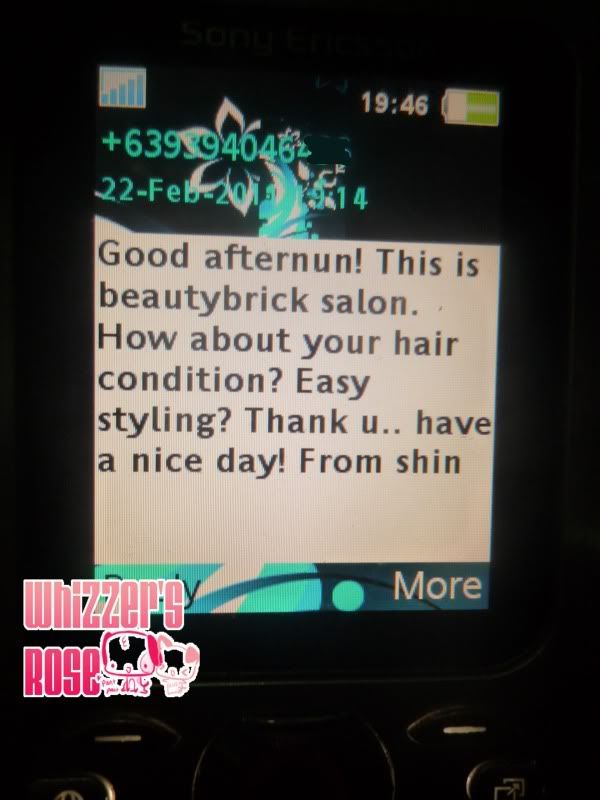 Mr. Shin and his staff did a good job, I must say despite the fact that I felt sorry that I have to lose my long tresses. My hair feels so soft and silky and it's not flat and now has a shape and as I am typing this blog- received a text from Mr. Shin himself and it's funny that you know it's him because of the English. I'd definitely go back to that salon.
On our last day, my mom and I browsed various shops in Mall of Asia. I had an argument with my mom before when she told me Central World in Bangkok is way bigger than Mall of Asia (maybe I was a bit biased because I used to work for it's sister company). It turns out Central World (7th) is indeed larger and Mall of Asia (8th) comes next in the ranking.
In the end and as usual, my mom out-shopped me with a total of 4 pairs of expensive shoes to 1 mid-priced pair of shoe. Had a fantastic time riding a big Philippine Airlines Airbus A330 when we went home the following morning (at dawn). It's been a long time since I last rode a big one since I have been riding the Cebu Pacific even on International Flights.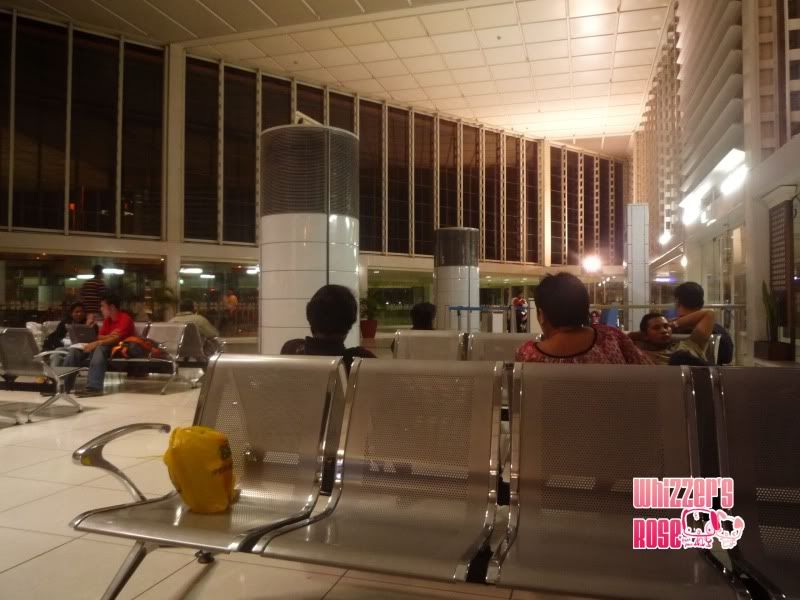 And so, I spent my Valentine's day with Manila. A love and hate relationship- I must say.