Pin It Now!
I'm not a techie-that's for sure. I do not bolt out for the newest technology and splurge. I guess, I'm the sentimental type. For 4 years, I have been using the same cellphone that I bought after I got my first job, Sony Ericsson's W8810i. I bought it when it first came out it was about PHP21,000.00 or roughly USD450. I wasn't really gonna buy ( I wanted a cheaper model) it but my mom, who bought it for me, insisted that I go get because she said that later on, I would regret buying a phone that's not 3G since it was the advent of 3G phones back then. She was right. It was so useful to me especially on those times when I went to stay in Manila and there wasn't any internet access in where I was staying and Internet Cafes were expensive. I used my phone as a modem and it was so easy to use especially when I need some information, I just Google it on my phone. In addition, with it's size and slim built- it's very convenient to carry it around.
Two years later after purchasing that phone, my battery was getting weak and I needed a second phone with a larger memory. I opted to buy Samsung's Star Wifi. I used it for music and video viewing. I needed a second phone back then because I usually call my office clients using another number. I don't like mixing up personal contacts with business contacts and at the same time asking "hu u?" is not my thing. In the Philippines, you'd understand why most people keep two phones because a lot of people change their numbers- jumping from one network to the other to get better deals. People would not call you or text you because you're using another network which will cost them a bit more. When this particular Network came out that introduced unlimited calls- it seemed like everyone was switching networks. Also, it doesn't hurt when your other network is down, you can still be reached. Lastly, I wanted to know how use the touch screen technology.
I am talking about this because I wanted to point out the reason why I'd rather spend money on a phone like Samsung than actually buy and Ipod. My cousin have a phone and an Ipod. I just think it's quite redundant actually. There are things you can do with your cellphone that you can't do with your Ipod right? But you can't call a person with your Ipod when your phone runs out of battery right?
At that time I always had this thing on mind, buy the latest technology since even after 3 years, it would still be helpful for you. But then after a few months, the price of my W8810i rapidly went down to PHP 16,000 and after one year to almost PHP8,000. Imagine how it felt. So, I have learned from that- I never rush out to get the latest but rather wait for the time when I actually need something.
****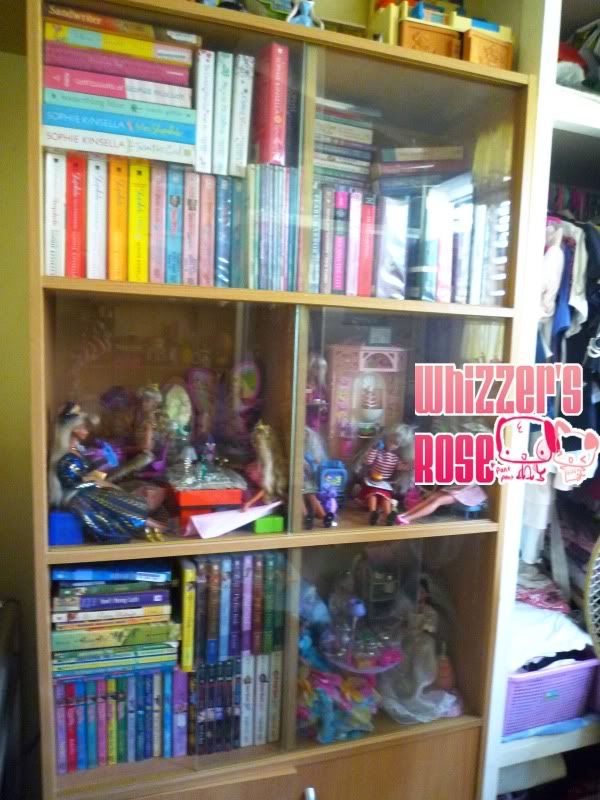 my mini library, there are books at the back too and I was forced to hide my
hardbound books in another cabinet
A few months ago, I was stacking books into my shelves and realized there isn't much space. I also wanted to read a number of books that are not yet available in the local book shop. I was very convinced that it is time for me to embrace reading ebooks. I'm very confused what to get. I didn't want to buy and Ipad because for me, it's just too expensive at the same time it would defeat the purpose of my netbook. So it was down to Nook by Barnes and Noble, Amazon's Kindle and Galaxy Tab.
The problem I have with Nook and Amazon is that they're not accessible to me. I need to order them abroad unlike the Samsung Galaxy Tab, I can just walk into a regular cellphone store and buy one. I was so convinced that I'd just get the Galaxy Tab but then choosing between the browsing-only edition and the phone one, I reached a dilemma. You see the browsing edition is PHP4,000.00 cheaper than the phone one, for the price of only PHP4000.00 you get the complete package. So, I decided why settle for something less like what I have learned when I bought my W8810i. So I started praying that the price would go down and started saving but then I started to get some feedbacks from friends who use Galaxy Tab.
The basic feedback I got was the battery life. A hardcore user usually charges nightly or every two nights. Lastly, you need a wi-fi router (I don't know what you call that) so you can access the web all the time. That will be an additional cost for me in addition to our DSL line at home.
I re-examined what I really needed. I just wanted a device that could allow me to read my books- that's my basic concern. I just need an e-reader, not a new cell phone or a new gadget to play Angry Birds on.
That's when I started to find out more about the Amazon Kindle since Nook was more expensive than Kindle. I was quickly taken by the reviews that I have read and I have been an Amazon client and base on my experience- they have a good customer service support team. The cons was that it doesn't have a colored screen but I think it would do for my basic purpose and so I ordered it from a local seller who would order for me abroad since I didn't want to through the hassle of it passing through customs since I've read online that one received her kindle and it was sticky and also because of my location (so far from any customs office).
1. Access to the internet without the need for a WIFI connection- basically, you can use the net on the go as long as you have GPRS signal.
2.Free Internet usage, no additional charges or additional lines.
3.Size and Weight- very lightweight and you could easily fit it in a shoulder bag.
4. User-friendly interface
5. Battery Life is good, lasts a week or more.
Cons:
1. Can't read without lights-you must buy your own reading light clip
2. Hard to find accessories for it since no one in this country is selling it commercially though you can use those cases intended for Galaxy Tab because they're the same size.
3.It's not touchscreen ( not really a con for me since I'm never a fan of touchscreens)
4.Does not have a colored screen (not really a con for me as well because the sole purpose I have this is to read books and not to play games etc)
So there you have it, I'm pretty much happy with my kindle. The only problem I have is that as much as I'm a bookworm, I now have a problem of disciplining myself from buying too many ebooks. I'm gonna share my ebook shopping next post though.
All in all, from my previous experiences, I have learned that it's not really important to for you to get the latest technology and buying the most expensive one doesn't necessarily mean that it's the best one in the market since technology improves almost everyday. It may be "in" today and "out the next day. To really get the value from your hard earned money, you really need to evaluate what you need then evaluate the extras that come. Also, take into the account the additional expense you'd generate like perhaps an additional telecommunication line whether it be wireless or not. Many gadgets today have overlapping features that makes having another of this or that redundant. It's up to you to evaluate and weight your options after all- it's you who's gonna make the decision and it would be you who would enjoy or regret your purchase so don't base your decisions on other people or what's currently the latest fad.