Pin It Now!
Wasn't able to claim my price from the Nuffnang Office in person but asked my sister to
take a picture of the office,
It's been quite a long time since my last blog post. It's been a whirl! I just got an amazing news when I found out that I won a consolation prize from Nivea for their 7 Wonders of Summer Promo. I was aiming for the Grand Prize-but hey! It's not everyday that you get to win a prize even if it's only a consolation prize. In addition, Nivea products are really good but kinda on the expensive side-so bring it on!
My Nivea Gift Pack from Nuffnang
A lot of people (especially married ones) who'd see me with a new bag or new stuff would always comment, "You can afford that because you're single". It would even be a big shock when they find out that I actually have some money kept in the bank even if I sometimes indulge myself. People who really know me would know that I sometimes splurge on make-up. Yes I did, back in the days when I thought that branded make-up means better quality, years of using make-up proved otherwise.
One of the make-up stuff that I usually go all out for is the eyeliner. It's actually quite a surprise for me that a lot of women I met haven't tried using eyeliner on their upper lids (not insinuating I started that). The truth was, I only started after I got my first job, at that time I was starting to get addicted to Korean Dramas and I always wondered what makes Korean Heroine's eyes look bigger and more expressive (circle lenses aside). That is why I came upon the technique of putting eyeliner on top of the eyelid to give it more definition.
Go Ara
As you can see, most Korean Make-Up Artists leave the lower lash line with a lighter color or without any liner at all. They only line the upper eyelids or if they do line both lash lines, they leave the lips nude.
So, before I get carried away posting pictures of my fave K-drama actresses, here's an illustration I found on the net on how to properly apply eyeliner.
I started using a local brand, Careline. They used to have this black liquid eyeliner in a blue tube. This was when I started practicing how to put on eyeliner. I have shaky hands so it was quite difficult for me at first but the advantage of the old Careline eyeliner aside from the price is that when the liquid dries up- you can actually peel it off and start from scratch. There was no need for you to bring along make-up remover, you can just peel it off. Of course, the disadvantage of that would be at the end of the day, you'd find clumps of eyeliner left overs on your eyelashes. Still it was a good practice material.
I also did try Mary Kay eyeliner pencil since the edge is not sharp that it would glide along the eyelids but it was not that dark enough for me. I had to put a finger and stretch out my eyelid to get a darker line which is not good for your eyelids. For me, I soon discovered that liquid eyeliner work well with me.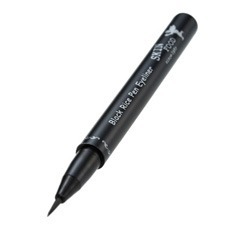 Months later, Skinfood opened locally. I was able to try out their Black Rice Pen Eyeliner. For a long time I was very loyal to this brand. The good thing about this was that the fine brush-like tip allows you to create precise line and it is waterproof. I do go to the gym after work before and when I go to the gym since my schedule was very tight, I do not remove my eyeliner and mascara off. Even when I sweat a lot, this eyeliner doesn't smudge. At that time this eyeliner costs about PHP800 and I had recommended this to my friends who asked me how I was able to line my eyes. At that price of course, this is actually on the expensive side for an ordinary working girl. So when one day I walked again into a Skinfood Shop and discovered has increased to PHP1000+, I take it that it's time to look for an alternative.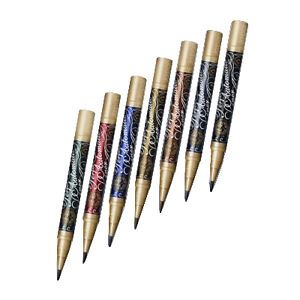 So my journey started. I have tried Etude's Fine eyeliner, what I don't like about this is that it tickles my eyelids. I know it sounds funny but sine the brush tip is so fine, it takes time to create a line that's not so thin nor so thick. I also tried Kate's liquid eyeliner-this eyeliner is good but the biggest issue I have about this product doesn't last long and I have a hard time filling the space in between the eyelashes so I have to use Etude's Fine eyeliner to fill in the gaps which means using to products. My problem with the Majolica Majorca was that it was just to liquid for me-or maybe the one that I got was an old stock because it was too watery.
I then tried to look for eyeliner gel alternatives. I initially got the Maybelline Gel Liner since it was always readily available on any Maybelline counter. I didn't like the product because the brush was just too stiff for me, it felt like I was scraping my eyelids. The gel also smudges and doesn't glide well on the lids so my Maybelline Gel Liner dried up with very little use-waste of my money. I did also try this Japanese brand Suki-it was ok but the brush is nice. It's so soft and perfect for applying gel eyeliner.


Though, I was a bit disappointed with Kate's brush tip eyeliner- I read good reviews about their gel liners but then the local counter of Kate in this place ran out and it takes forever for them to stock up. Then one day, I happened to pass by Tony Moly's counter and got tempted to buy their gel liner which doesn't come with a brush but it was so good.
This gel, Tony Moly Party Lover Gel Eyeliner in black only costs PHP348 and it doesn't come with a brush. At first, didn't know which to buy, this one or the Tony Moly Backstage Double Gel Eyeliner. Given my not-so-good experiences with previous gel eyeliners, I opted to buy the cheaper one. But I was very impressed with this one that I later on came back to buy the other product.
I love the fact that the gel isn't hard to apply and as you can see, it's easy to draw precise line on your eyelids. The Tony Moly Backstage Double Gel Eyeliner's the same but it's more expensive because it comes with a brush and a highlighter meant to be place at the inner corner of the eyes.
I know I'm crappy when it comes to product reviews, I get lazy uploading pictures but the bottom line is:I would very much recommend this product though I advise to get the the cheaper one first for Newbies since I know that it's always different strokes for different folks.
Here's the rundown so far:
Best Liquid Eyeliner for me is
Skinfood Black Rice Eyeliner Pen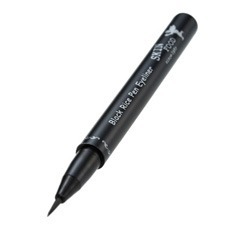 Best Gel Eyeliner for me is Tony Moly Party Lover Gel Eyeliner
Infinite xoxoxox